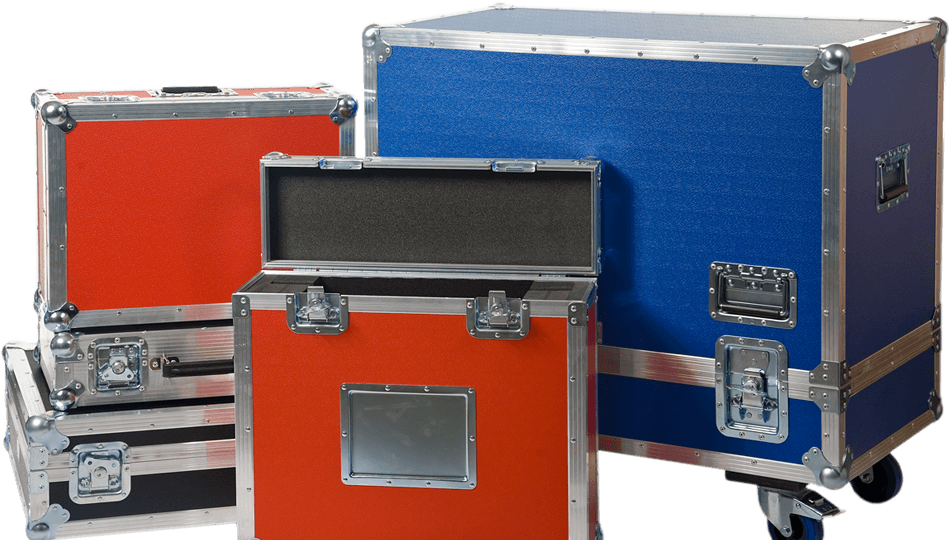 CUSTOM FLIGHT CASE
Custom made laminate/phenol
faced birch plywood or Astraboard
flight cases in a choice of colours
and variety of textures with
aluminium extrusions and
zinc plated steel hardware.
VIEW FLIGHT CASES >
POLY TRANSIT CASES
Custom fabricated semi rigid
transit cases manufactured
from High Density Polyethylene
or fibreboard with steel
reinforced frames and zinc
plated steel hardware.
VIEW TRANSIT CASES >
PADDED BAGS
Bespoke hardwearing foam
lined/foam padded nylon
and pvc bags with optional
webbing handles, shoulder
straps and Velcro or
zipped flaps/lids.
VIEW PADDED BAGS >
Looking for Quality Flight Cases?
Dragon Cases are specialists in the design and manufacture of custom
flight cases
for the storage and freight of fragile technical equipment. No matter what you need a case for, we can create it!
We have been working in the flight case industry for more than 30 years. In that time, we have become experts – from our
flight cases
to our
equipment bags
, everything we produce is of an exceptional quality. It's all manufactured in our state-of-the-art facilities in Wales, and so we can personally guarantee that your road trunks and rack cases will meet our exacting standards!
We have provided flight cases for a wide variety of industries, including:
Film & TV
Music
Grand Prix
Theatre
M.O.D.
Aviation
Sports
Education
...and many more besides! We take pride in our ability to create a case for any occasion, so whether you need road trunks for a rock band or a protective bag for your camera equipment, rest assured that we won't let you down.
Flight Cases, Road Trunks & More
We design, manufacture, and supply a huge range of cases for a near-infinite array of purposes. Here's a selection of what we can provide:
19" Rack Cases
Road Trunks
Poly Transit Cases
Flexi Trunks
Protective Bags
Our cases and trunks are fully customisable; depending on your requirements, you can request a shock-mounted case, a foam suspended case, a flexi road trunk with adjustable partitions...whatever you need. Dragon Cases can even manufacture your flight case with CNC-routered foam or water jet cut foam inserts, all designed to meet and exceed ATA specifications.
As previously mentioned, we also manufacture a variety of road trunks, road cases, cable trunks and instrument cases, as well as protective padded bags.
So whatever you need, we are confident that Dragon Cases can do it for you. For more information regarding any of our products, please contact the office on 01633 791590.
A Selection Of Our Corporate Customers:
View All >
KEEP UP TO DATE WITH DRAGON CASES
LATEST NEWS POSTS
Apr
24
Request a flight case quote now > If you're a professional tradesperson, you've probably got...
Read More >
Apr
17
The Dragon Cases website is packed with interesting images of the cases we create, and so we...
Read More >
Apr
09
We've manufactured many, many instrument cases over the years – imagine all the guitars...
Read More >