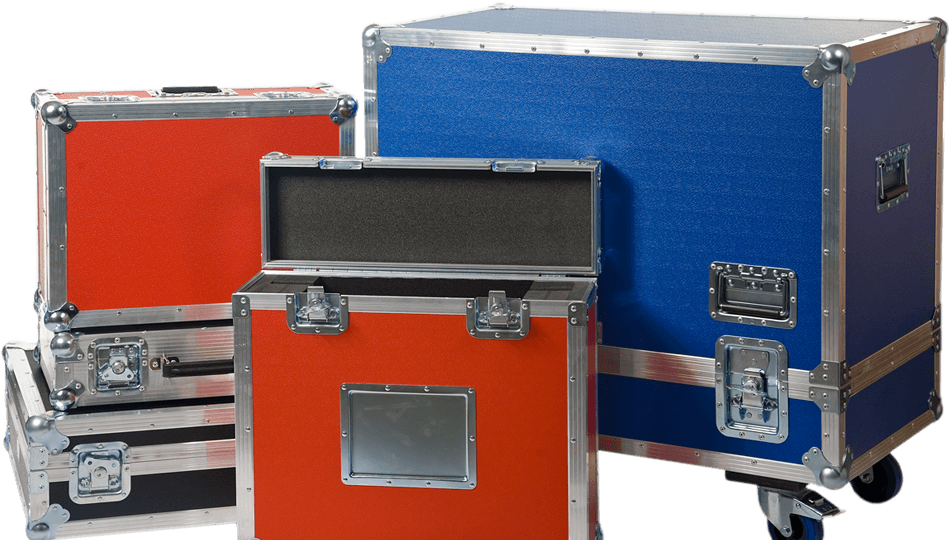 CUSTOM FLIGHT CASE
Custom made laminate/phenol
faced birch plywood or Astraboard
flight cases in a choice of colours
and variety of textures with
aluminium extrusions and
zinc plated steel hardware.
VIEW FLIGHT CASES >
POLY TRANSIT CASES
Custom fabricated semi rigid
transit cases manufactured
from High Density Polyethylene
or fibreboard with steel
reinforced frames and zinc
plated steel hardware.
VIEW TRANSIT CASES >
PADDED BAGS
Bespoke hardwearing foam
lined/foam padded nylon
and pvc bags with optional
webbing handles, shoulder
straps and Velcro or
zipped flaps/lids.
VIEW PADDED BAGS >
Looking for a Quality Flight Case?
Dragon Cases are specialists in the design and manufacture of custom flight cases, poly cases, fibre transit cases, and stitched padded bags for the storage and transport of fragile and technical equipment.

We have over thirty years' experience in the flight case industry, designing and supplying cases of an exceptional quality. Every single flight case we manufacture is made in the UK, and meets first-class specifications! We currently supply our custom made flight cases to a wide range of industries that include:

Audio visual, computers & internet, M.O.D., sound & lighting, entertainment, Grand Prix, film & TV, communications, theatre, display & exhibition, conference, storage, aviation, sport, arts, education, travel, medical, electronics, industrial, music, broadcast, scientific, off sea, telecommunications, military and retail.
Your Requirements – Our Flight Cases
We design, manufacture, and supply a huge range of flight cases for a wide variety of industries. Our extensive range of products includes:

flight cases, transit cases, flexi trunks, poly and fibre cases. These are fully customisable so can be specified as rack mounted flight cases, shock mounted rack flight cases, foam suspended rack cases, etc. For larger quantities, flight cases and poly cases can be manufactured with cnc routered foam or waterjet cut foam inserts, all designed to meet and exceed ATA specifications.

We also manufacture a variety of road trunks, road cases, cable trunks and instrument cases, as well as padded bags, and protective bags.

So whatever you need, at Dragon Cases, we are confident we can provide you with the ultimate custom flight case. For more information regarding any of our products, please contact the office on 01633 791590.
A Selection Of Our Corporate Customers:
View All >
KEEP UP TO DATE WITH DRAGON CASES
LATEST NEWS POSTS
Mar
05
Given that we create bespoke flight cases – that is, every case we make is different, made...
Read More >
Feb
27
Free when you buy a flight case for £2,000! Big news, everybody! Our managing director Brad...
Read More >
Feb
24
Purchasing a flight case is just like purchasing any piece of high-end equipment: you don't want...
Read More >